February 1st to 5th, 2023, Sichuan Yanshen New Materials Co., Ltd. participated in the Plastindia India Rubber and Plastics Exhibition in New Delhi, the capital of India. Sichuan Yanshen's main products are Titanium Dioxide YSR-929 and YSR-928 for plastics.
Plastindia, New Delhi, India
Exhibition time: February 1st ~ February 5th, 2023,
Venue: Pragati Maidan Exhibition Center, New Delhi, India
Sponsor: Plastindia Foundation,
Holding period: once every three years, exhibition area: 125,000 square meters, exhibiting audience: 200,000 people, the number of exhibitors and participating brands reached more than 2,000.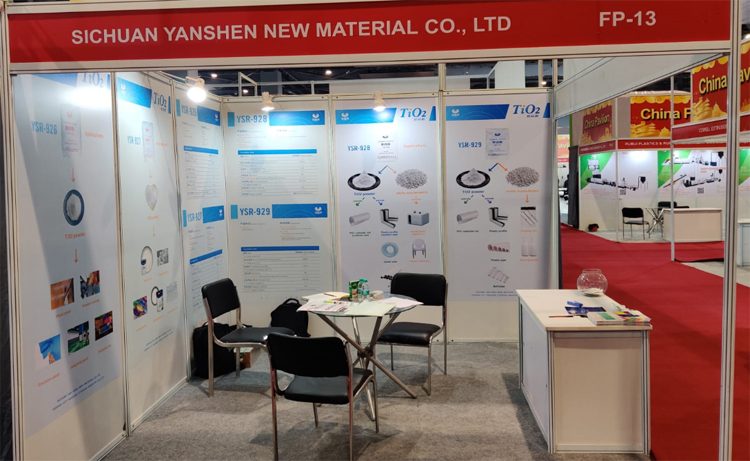 This exhibition brings together rubber and plastic raw materials, pigment raw materials such as titanium dioxide, plastic processing equipment such as extruders, mixing equipment, calendering equipment, etc., film blowing machines, injection molding machines, hollow molding machines, etc. The Plastindia largescale exhibition showcases the latest cutting-edge technologies, innovative processes, high quality products and professi onal suppliers in the rubber and plastics industry.
The exhibition also attracted more than 50 plastics industry exhibitors from mainland China.Yanshen Company also brought titanium dioxide specially used in the plastics industry to Indian counterparts. YSR-929 and YSR-928.
YSR-929 titanium dioxide is suitable for white masterbatch, color masterbatch, plastic extrusion, calendering, downstream applications are blown film, bottle blowing, extrusion profiles, calendered film products, etc.
YSR-928 titanium dioxide is heat-resistant (260°C) weather-resistant (outdoor use) titanium dioxide. Suitable for white masterbatch, color masterbatch, plastic extrusion, downstream applications for indoor and outdoor injection molding parts, indoor and outdoor profiles, etc.