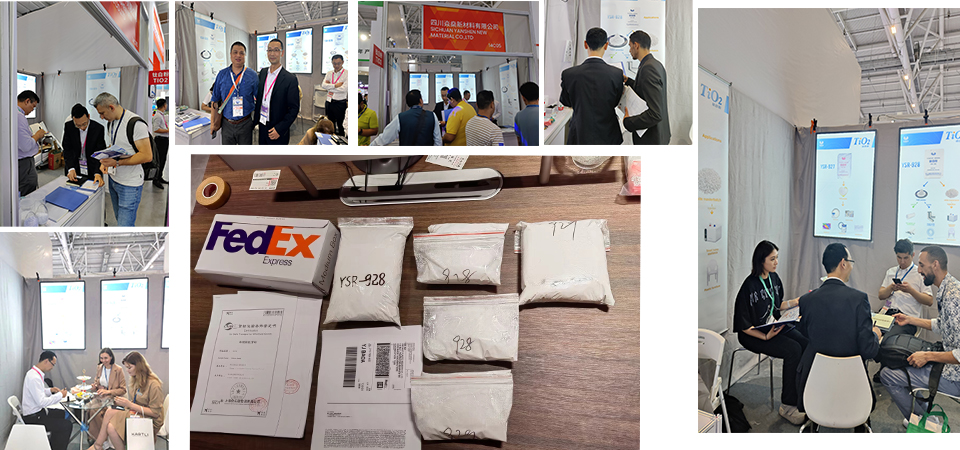 Sichuan Yanshen New Material Co., Ltd., an emerging factory specializing in the production of titanium dioxide, participated in the 2023 CHINAPLAS Exhibition held in Shenzhen on April 17, 2023, and achieved a complete success.
This exhibition is a very important professional exhibition for China's rubber and plastic industry. Due to the epidemic, overseas customers can not visit Chinaplas for three years. Taking advantage of the opportunity of China's reopening, this exhibition has attracted many well-known enterprises and merchants from China and overseas market. During the exhibition, Sichuan Yanshen New Material Co., Ltd. displayed its main products—YSR-928, YSR-929 titanium dioxide special for plastics, which attracted the attention of many professionals in the rubber and plastics industry and customers at home and abroad.
During the exhibition, our salesman received customers passionately, and carefully explained the use of our products, product characteristics and industry trends in the past three years to customers. The professionalism of our business personnel has also won the full respect of customers and won many opportunities for product samples.
After the meeting, Yanshen management team sent congratulations to all colleagues who participated in the exhibition, hoping that everyone will serve customers with kind heart and promote Yanshen New China Titanium dioxide factory products to a broader market as soon as possible.